Despite lagging in the race to adopt eCommerce, B2B businesses are aspiring to employ digital techniques to join the eCommerce revolution, boost sales and shape the future of their business. As per the report from Forrester Research, B2B eCommerce transactions is estimated to reach $1.2 trillion by 2021. While there were around 1.64 billion online buyers in 2018, the number is expected to skyrocket to 2.12 billion by 2021.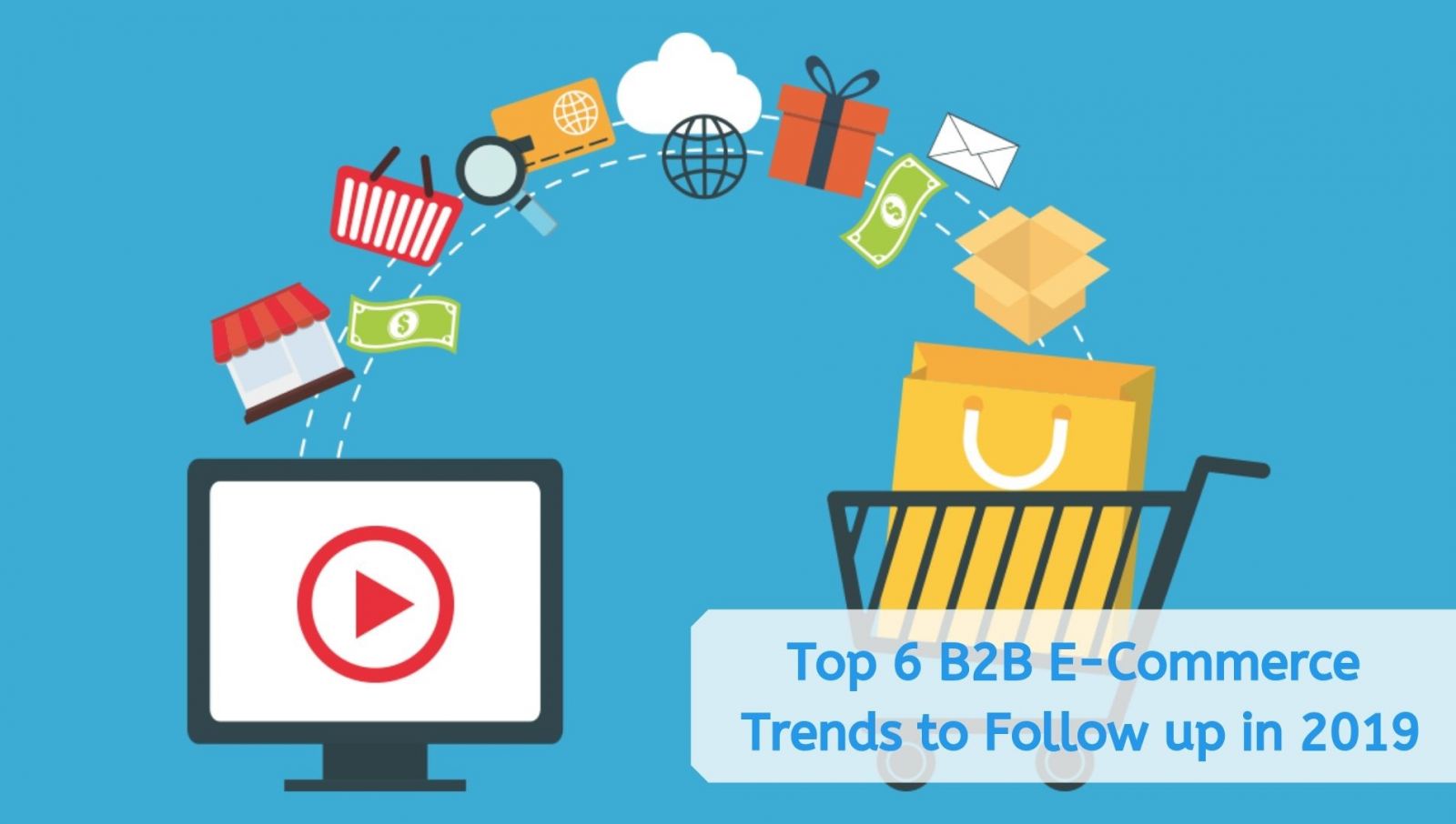 Of late, the B2B eCommerce sector has witnessed a paradigm shift in its sales approach as well as in improving customer experience. This has helped them to rapidly expand their businesses and reach the bottom of the sales pipeline faster than ever.
So what are the rising trends that promise more growth in B2B eCommerce landscape?
1) Artificial Intelligence (AI): - Artificial Intelligence combined with Machine Learning (ML) is crawling into and will continue to expand the B2B eCommerce space. It is considered as the major driving force behind cutting back on manual labour. Through user intent in search engines, the data and interests are now shared via various social media platforms. Also, the keywords are integrated into unified algorithms generated to provide better replies to the customers' queries. A recent survey report indicates that by 2020, AI technology will trigger a 16% improvement in eCommerce growth for brands. It also enables B2B businesses to optimise their website layout as well as pinpoint the most relevant product recommendations to the customers.
2) Chatbots :- A chatbot is simply a computer program designed to chat with consumers in a streamlined manner. Chatbots are common, but their capability of adaptation and intelligence has paved the way for better customer interaction in B2B eCommerce sector. That is, a chatbot will answer all the questions of the customers and help them to streamline their buying experience. Predominantly, a chatbot is yet another manifestation of a personalised purchaser experience, but with an enhanced interactive approach. With an increase in usage of chatbots more and more research is being conducted on the same so as to enable it to understand the buyer's emotional state of mind and communicate accordingly.
3) Augmented Reality (AR) :- Augmented reality is reshaping the B2B eCommerce business. By superimposing virtual images onto a buyer's view, it can help you improve the customers' buying experience and drive you more sales. I.e., it enables your prospects to view (in an AR viewer or mobile devices) how your product looks like, how your product can help their organisation or provides an instruction manual developed using interactive images and texts. In addition, Augmented Reality can help you achieve business alignment internally. It enables your marketers to collect data from and uncover insights into your most important prospects.
4) Voice assisted intelligence :- Voice assisted intelligence or voice assistance is replacing the traditional search approach. Echo, Siri, and Google are the most popular voice assisted assistance known to consumers world-wide. Voice assisted intelligence obeys the user's command and then delivers instant results. According to recent research, 51% of the users prefer to look for a product through voice search. Also, voice search can act as a helping hand for buyers who aren't ready to take assistance from sales representatives, but want to know about the specific product's attributes, pricing and save time spent on deciding the right product. Voice assisted intelligence can also help your customers manage their order status and generate a great buying experience.
5) Informative videos :- Videos have taken the Internet by storm. Statistics says that 80% of consumers find videos useful when making an online buying decision, and 65% of customers say that they are more likely to purchase a product online only after viewing a video. For B2B eCommerce business, an explainer video is the best way to attract customers. It provides the consumers with them the brief details about the product and its attributes. In addition, also provide the professional testimonial, how-to's, case studies or success stories in a brief manner through engaging visuals. Videos can add personal connection and help the customers to build trust in the product.
6) Omnichannel :- Omnichannel continues to rule the B2B eCommerce sector. It not only provides the choice to sell the product via multiple channels both online and offline, but also gives an equal opportunity to buy the product online and offline. In a recent Forrester survey, 60% of omnichannel consumers are active, spend more, and are less expensive to support compared to the single channel customers. It lets the consumer buy whenever and wherever they decide to, ensures product pricing and promotional information is consistent, secure, customised, and updated. Additionally, it also gives greater convenience, speed, and comfort to the customers when interacting with a sales representative.
With ever-evolving of the eCommerce sector, it makes more sense to ensure that your business caters to the needs of your customers in the best way possible. Despite the complexities involved, embrace the emerging trends, enhance communication with customers and impact the buyer's decision.