In the current economic environment, businesses have found ways to stand out, tighten their operations, and improve their revenues while keeping expenses low through niche research and consulting services. But the ironical drying up of quality leads for the research and consulting sector is a testimony to the need for smart tactics and innovative marketing and lead generation techniques.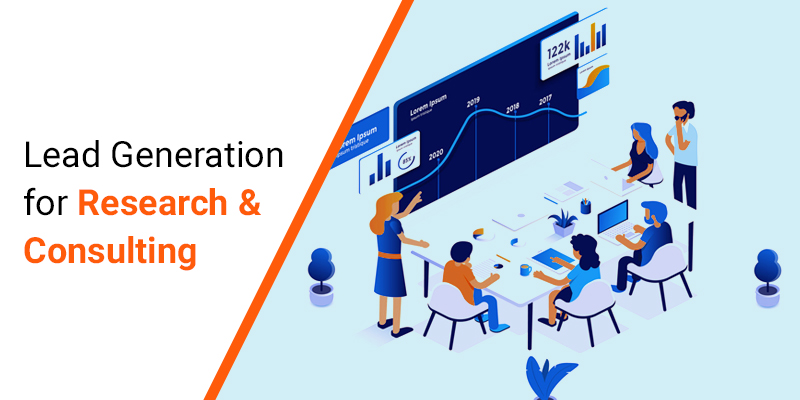 Running a business is easy-peasy if you have a constant lead flow, but only if that was easier than said. Avail our lead generation company service and obtain bucket full of verified leads that never run dry!
'Strategise, Plan and Execute' to generate nurtured leads
As a consulting and research company, you might be trying to increase your lead generation and up-selling by using your inhouse sales army. But are you really able to level up your game by simply waiting for them to gather the right sources at the right time using the right mix of techniques? You probably know by now that the wait is no sooner getting over!
The consultants cannot aptly answer "What's in it for me?" asked by clients

A mismatch between the sales team and consultants obstructing intelligent decision making

Competition with your rivals comes with the risk of lower margins and increased marketing costs, which doesn't benefit your organization.

Recruiting an army of personnel; accounts manager, Email & social marketing specialist, research & data analyst, quality analyst, marketing manager, sales executives.

Heavy dependence on age-old methods such as cold calling and spamming user mailboxes

Boasting about your services, while not paying heed to challenges or obstacles faced by groups
Up till the last decade, even established research and consulting firms banked upon word of mouth and print advertisements which are just too passé. It is impossible to flourish (or even run on the no-profit, no-loss situation) turning a blind eye to the internet, or more specifically your digital presence.
Getting on the sales game and marketing your product/service across a stratum, is no easy trial and error shots. It requires sales know-how, updated marketing techniques, and tools, SEO skills, content strategizing and what not!
Here's a glimpse of the concerted efforts put in by the team at Emarketz in delivering you hot, validated leads:
We use multi-channel marketing including voice, Email, mobile, and web to generate quality leads

We manage marketing automation and nurture your leads until they are ready to convert into your loyal customers

Accelerated Mobile Pages (AMPs) are our greatest assets for research firms; wherein we undertake rigorous research work on a routine basis to display latest updates, current trends, success stories, emerging diverse sales/marketing tactics as well as best practices

User-based content marketing; solving challenges faced and identifying sales/marketing techniques

We create targeted lists for different segments and regions; their industry specifications, location limitations, specific barriers faced, etc.

Our webinars, live chat sessions, newsletters, downloadable ebooks, gated content resolving real-life issues and offering premium content bring in more signups and subscriptions (and thus leads)

Focus on specific needs of research and consulting firms by offering customization and need-oriented solutions ( niche and well-defined offerings bring in more quality leads)

Stiff competition is overpowered by our well-researched value proposition and differentiating factors (comparative analysis with competing sites is also done at times)

If visitors leave your website without filling up any web form or clicking on CTAs anonymously, it doesn't mean they are not interested in your service. According to a recent survey among sales and marketing strategists, about 46% of respondents reported that visitors get converted not at the first visit, but at subsequent visits to their websites. Abandoning visitors must be tracked down through remarketing techniques to encourage conversions. On getting the slightest of intent signals from visitors, we indulge in rigorous retargeting and remarketing activities to get back your potential customers. By serving targeted ads about specific research and consulting services they are most likely to be interested in, we multiply your probability to gather qualified audiences from this stratum of anonymous visitors. The focus is laid on creating additional opportunities for increased conversions.
Further, research and consulting is a crucial sector for most large organizations, government organizations, corporate firms, etc. which plays a major role in future decisions, we take up concerted efforts towards presenting your business as their best bet.
Responsive websiteswith engaging home pages are targeted to catch first-timers and new visitors, i.e., the top of the funnel

Segmenting audiences and displaying targeted ads for a chunk of abandoning visitors wherever they go online (retargeting)

Customized product pages for those on the lookout for specific service offerings, i.e., lowest segments of the funnel.