Repair and maintenance sub-sector consisting of personal & household, automotive, electronic & precision equipment commercial, industrial machinery & equipment industry groups, restores equipment, machinery, and other products to working order. Quite from its genre, one ca very well imagine its never-fading demand across sectors. However, the market is increasingly getting saturated with over plenty of repair and maintenance companies, for new business. As a result, acquiring new leads for this sector has become really challenging. As a repair and maintenance company, you would want to spend more time in offering service and less in finding leads. But balancing between the two is quite tricky.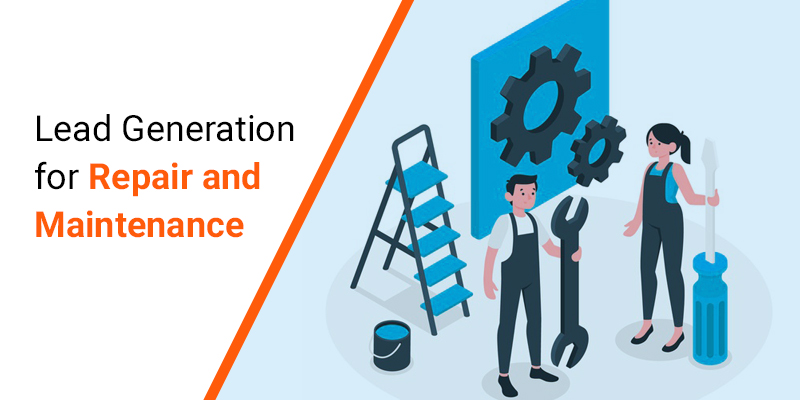 Want to drive hot leads for your business? We, at Emarketz, are here to help you!
Our only goal is to deliver a constant flow of new leads interested in your service.
The key to success for a business is finding the ideal customers that are willing to buy its product/service. The purpose of any content marketing in the process is to get a 'yes' from the visitors. Any SEO-optimised image, content or posts are targeted to get more organic traffic. However, often the internal marketing team can turn futile in strategizing the overall marketing plan and executing the same to build upon the sales pipeline. Without any excuse, your repair and maintenance business demands new leads for smooth running and keeping the business afloat.
Wouldn't it be great if you could spend less time seeking leads and spend all your time doing what you are best at; repairing and maintaining? Yes, this is exactly what we offer when we say we are the best lead generation service providers for your repair and maintenance business.
Nurturing leads through 'multi-channel sources' across 'multi-channel platforms'
You cannot stand and spend all day on the rooftop looking around for people who need your service, or asking about them door to door. Finding leads for repair and maintenance business is hard, in fact, it is quite tolling on time, resources and money. Some of the challenges faced while generating the leads include:
Building a targeted email marketing list

Identifying target groups (people, organizations, etc.) who might need your services

Lack of network and communication with builders and local community

Non-optimised, redundant websites with difficult navigation is a common feature among business service providers

Failure to reach out to target groups with faulty blogging and SEO services strategy

Irrelevant content (reported as a greatest industry pain point) that shoos away prospective clients

Wrongly placed, inappropriate message and overused CTAs
Win-win situation for lead generation
Being in this industry for over a decade, we have prepared a comprehensive list of tactics to be adopted to fill your sales funnel with hot, validated leads. Rigorous research about buyers and their needs and desires is paramount in the business services industry. Over 800 web directories (up-to-date) add to our inventory compiled and accessed by concerted efforts of our team members. To top it all, our effective mix of marketing strategies and sales techniques that wouldn't disappoint you in 2019 and beyond include:
A judicious mix of email marketing and PPC advertisements

Auditing your websites and giving an audit report

Targeted landing pages with appealing CTAs, smart forms, quick links, etc.

Listing your business public information through local optimisation

'How to' content, instructional webinars, live chats, tips and tricks, DIY videos, informative blog posts, etc.

We refrain from indulging in cold calling or spamming user mailboxes

Conducting keyword research for content optimization
Lead generation for us, basically implies instigating an interest in our visitors by reflecting your value proposition and persuading them to go for your business over other competing firms.
Explore the strategy of 'Retargeting'
Just like strictly following the 'seven rules' of traditional marketing was a must, remarketing is an entry ticket to the charms of digital marketing and drum up leads.
We have a pool of repair and maintenance websites with all the necessary ingredients of a high-traffic platform; clear CTAs, interactive content, appealing designs, engaging forms, opt-in opportunities, pop-ups, user-friendly navigation, etc. The combined efforts of our web developers & designers, SEO service experts, content writers, digital marketing specialists, lead generation and Media Buying Service specialists fetch enormous organic traffic on our website which is then retargeted to your specific services using a mix of marketing tactics and sales techniques.
Even when the visitor abandons our website anonymously, he/she is traced on all digital platforms and retargeted with relevant ads of your repair and maintenance services offered. The content strategists curate content which is worthwhile, interactive and targets those visitors who can be instigated to show interest in the services.
Lead verification: A process that makes all the difference!
Availing legitimate leads is a must for a business. We assure you that the leads shared by us are 100% authentic and genuine. Wondering how?
Our experts verify every single detail the interested visitors (name/company name, contact details, location, service sought, etc).

Upon confirming that the lead is valid and interested, only the filtered list is shared with your sales department.

Our motto is to provide you quantity leads with 0% sacrifice in quality!