Globalisation has helped businesses expand into international markets, thereby eroding nation's virtual border and blurring geographic borders. The swelling growth in the movement of people from and into a country has led to a sudden rise in immigration and visa requirements implying a flourishing overseas immigration service sector.
With the endless expansion in immigration service providers out there, obtaining leads has become a hard nut to crack! To couple this, the constant distrust among masses for fake immigration service providers is a roadblock for those providing legitimate services.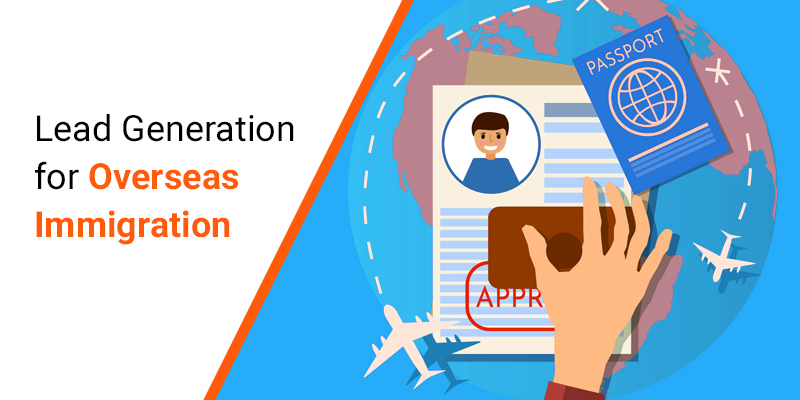 We, at Emarketz, through our SEO experts give your company a new face and voice on digital platforms to help fill gaps in your sales/marketing funnel, maximising your reach and delivering an outstanding ROI.
Tap on the immigration boom with increased leads
It is estimated that around 1.3% of the adult population are migrating every 12 months globally for different purposes thereby contributing significantly to the nation's forex revenue. With the surge in global mobility for business, leisure, education, medical services, etc., consultancies offering overseas immigration services are blooming.
However, for most companies, gathering and managing leads, tracking their behaviour, assessing their unique needs, qualifying them and converting them into 'sales-ready' leads is a pandora's box exposing them to:
Managing overseas compliances and risks (like in case of cross border working arrangements)

Lack of real-time reporting about marketing campaigns

Difficulty measuring website conversions from linkedin and other social platforms

Inability to identify target audiences and design custom tactics

Lack of built-in analytics to optimise campaign
We leverage inbound as well as outbound lead generation strategies and try to gain the attention of target prospects who are most likely to be interested and would listen. For those who are not all ears, we ensure our engaging content and intention reaches to them through a spectrum of smart marketing tactics. prioritising the leads from the most likely to convert to the least likely, helps maximise the return on your efforts.
To help you achieve your basket full of leads,
We conduct a thorough website audit - Embarking on your Search Engine Optimisation journey without knowing where your website stands (in terms of measurability, usability, security etc) is futile. We, therefore, conduct a website audit to check its robustness, technical framework, speed, etc.

We analyse the gap and set up 'fillers' - We perform a gap analysis on the current sales and marketing funnel, and then devise custom tactics to fill those.
We optimise the landing page - It is possible to achieve twice the leads merely by optimising the landing of the website. We utilise various strategies such as prominent CTAs, web forms, quick links, reviews, etc. to 2x conversions.

Generate/resolve queries in communities - Our team develops relevant queries in self-created communities, forums, and groups from prospects seeking permanent or temporary residency status, requiring help with nonimmigrant visa, facing deportation and need assistance with immigration attorney.
In addition to these measures, we convert our website traffic into quality leads for you using our years of SEO experience, marketing/sales expertise and technical know-how. The majority of the traffic to our in-house websites comes from organic Google searches. Our team maintains an athenaeum of content/ads that your potential client is looking for and ensures it is 'highly visible' across search engines.