Whether you are a newbie to the business world or an established tycoon, ERP systems let you manage your business operations in one simple platform and transform the way your entire production, sales, distribution, etc. function at the core.
Enterprise resource planning (ERP) systems have become irreplaceable over the last couple of decades. However, fetching clients that make sense to your business is a 'big deal' given the obvious reluctance on the part of traditional business owners coupled with software's inbuilt complicacies.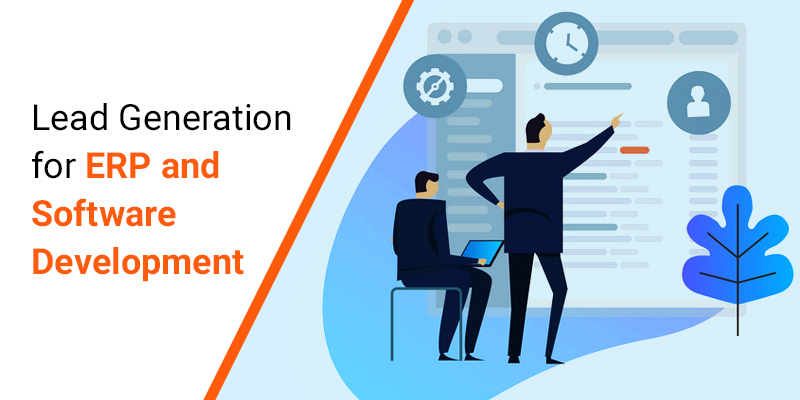 Keynote: Find your leads and seal the deal before the software itself needs an upgrade!
To add value to your ERP business, expand your market avenues and multiply your profits manifold, you need leads that can repay the tremendous efforts put in by your team. Not only must the leads be qualified and validated, they also ought to be loyal. According to a recent survey conducted among top ERP service providers, 'lead generation' is one of the greatest problems causing shutdowns and losses in the industry over the last 3 years. Applying the strenuous efforts and technical expertise of our adroit lead generation team, we identify, nurture and secure 'hot' leads for your ERP business in fastest time.
Generating validated leads like a pro
You deserve good money for streamlining complex business processes by developing advanced software solutions for businesses. But this is possible only if you could catch hold of clients who are willing to embed the software in their businesses and change its course of functioning forever.
Generating leads for your ERP and software development business isn't an easy task; in fact, it is quite tolling on your sales and marketing team. Transferring a 'cold call' into a 'closed lead' is a challenging task for the most experienced personnel as well. This is more so in case of B2B, where lead generation is much more than any easy marketing tactic targeted at stimulating interest. Here's a list of some challenges we found more intriguing for ERP and software development firms in generating, what we call 'hot' leads:
Identifying who can actually make use of ERP solutions

Staying connected to client needs, communicating what you can do for them, and missing out on 'thought leadership'

Unfavourable budget appropriations for generating client base (or, leads)

High targets/expectations for quality and quantity leads
We, at Emarketz have customised solutions for all your lead generation problems (or lead deficiencies). Every problem comes with a solution when you join hands with us.
The lead generation specialists give you deeper insights into the opportunity pipeline associated with every marketing move undertaken by us. To help you generate leads, we use the most effective, tried and tested marketing/sales regimes including:
Direct mails or combination of cold calls and Emails

Landing pages with cornerstone content and web forms

On-site or phone surveys

Rigorous use of leadgen magnets

Closed-loop system for step-wise tracking

Conversion points at all stages of the sales funnel

Targeting industries like manufacturing, distribution, retail, construction, healthcare, etc.
Our lead generation or lead nurturing activities get 5-9 times higher response rates and 55% greater conversion rates when compared to mass emails
Find YOUR leads by exploiting OUR resources
With the aid of experienced team of web designers, web developers, content crafters, SEO experts, and digital marketing specialists at Emarketz, we have developed engaging websites for a diverse range of industries that record high amount of traffic on a weekly basis. We remarket the interested visitors using tracking systems of their online activities. Thus, in simple words, we catch the user intent on our high traffic sites and then, 're-market' via a set of activities to capture the specific preferences of the users.
'Identify' and 'convert' your leads
Our team makes use of the latest technology to monitor the actions (or clicks) of each and every visitor on the webpage. Our team
Pays attention to every step laid by the visitor arriving on our page

Records their actions including CTA, queries, etc.

Learns about visitor interests and redirects to service offered by you
In addition to lead generation, Emarketz pays a great attention to managing the leads once gathered;
We have set up automated notifications on receiving response on mail or social media portals. We ensure information is revealed only to secured sales personnel after segregating into categories as per needs, along with providing accurate leads monitoring reports.
On receiving new leads, we rigorously verify information provided by the leads to make sure that the leads shared by us are legitimate.