The commercial cleaning industry (janitorial services offered for factories, warehouses, and commercial outlets) is facing tough competition from established franchises for its fair share of the profit pie, despite being a profitable and rewarding business.
Acquire leads to 'your' business through 'our' unparalleled lead generation service and stay ahead of your competitors!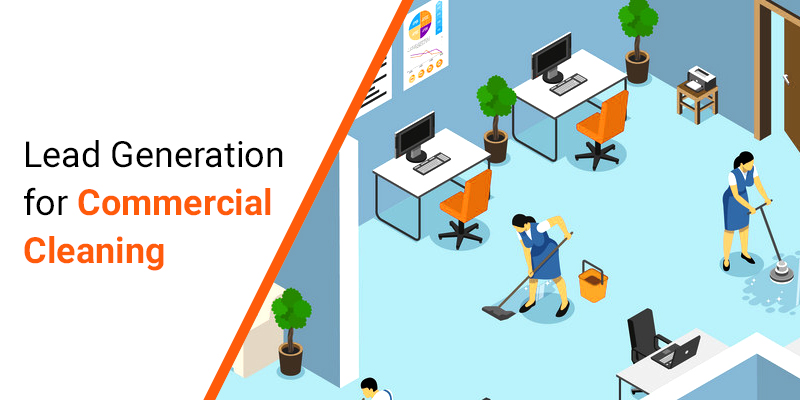 If you have been in your business for a while now, you might know that lead generation is never a cakewalk. Although you have a clear and concise idea of your ideal customer profile, reaching out to them and getting them to proceed further in the purchase cycle is not one of the easiest tasks to do (in fact it is the hardest nut to crack!).
We, at Emarketz, have honed our lead generation company approaches and churned smart sales/marketing tactics that are upbeat with changing customer needs, janitorial industry trends and advancing technologies. We understand the long-term and short-term goals you want to achieve, and then discern factors that would generate qualified leads in the least possible time.
Obtaining ' validated leads' can be a pain!
Commercial cleaning businesses today are heavily dependent on lead generation for their business to grow and proliferate their revenue. But the majority of salespeople are losing their potential customers due to the inability to generate strong word of mouth and a good reputation for their businesses online. Adding to this,
a) Searching for target properties and compiling data (total building area, number of stories, etc.)
b) Building tailored campaigns to promote your business across digital platforms
c) Inappropriate content marketing
d) Lack of opt-in opportunities for visitors (CTAs, web forms, pop-ups, lead flows, etc.)
e) Non-optimised websites, landing pages, etc. that reflect lost leads escalates the situation.
Wondering how we fill your pockets with up-to-the-brim leads? Here's how!
We begin with analyzing your current low-leads scenario and identify the pain points, weak segments and areas of scope. Before going out there trying to fetch you leads that convert, we dig a little deeper:
Q1. WHO is to be targeted?
Tracing your audience group is the first step. Once we know who will be willing to buy your product or avail your services, the subsequent actions are planned. Talking to random people without targeting hoping they will convert is like beating around the bush.
Q2. HY should the visitor buy?
We give visitors reasons to buy by bringing to limelight the distinctive features of the product/service via a problem-solving approach (content marketing) for depressed customers.
Q3. WHAT is to be presented?
Content which instills an interest in visitors and urges them to push the buy button is considered 'good content'. We deliver targeted messages across different platforms to reach out to target groups who can be present anywhere and everywhere on online media. Instructional videos, informative blog posts, infographics, tips and tricks, etc. are great if written meticulously.
Q4. WHERE to find leads?
The answer is, wherever they are! You must look for leads on all possible digital platforms under the sun. Leveraging different social media platforms is key to leads generation. Facebook, Twitter, YouTube, landing pages, inhouse websites as well as other related commercial sites work as great spots to get new contacts.
Q5. HOW to find leads?
The answer is with the expert team at Emarketz possessing diverse experience and skilled expertise. Well-researched sales/ marketing strategies, tactics and activities fuel up our lead generation journey.
Level up your sales/marketing game!
We, at Emarketz, understand that there is no "one-size-fits-all" solution to find new clients in the janitorial industry. Your target and budget are different from those of your competitors, and so are your set of customers. But when running a commercial cleaning business, reaching the bottom line of the sales funnel becomes a necessity, rather than a choice. It is a good idea to engage in guided conversations (online) which are multi-directional. Being in this industry for over a decade, our lead generation specialists make use of tailored and efficient strategies that can give you a leg up in this world of the custodial arts.
a) Referral marketing technique to boost your business
b) Listing your service in local directories/citations
c) SEO services for landing pages with smart forms, CTAs, and quick links
d) Use keywords that have a good amount of monthly clicks
e) Multi-channel, multi-platform digital presence
f) Infographics, 'How-to' videos, DIY videos, informational blogs, etc.
g)Additionally, we use our pool of high-traffic websites (developed by a team of web developers & designers, content crafters, SEO experts, and digital marketing service specialists) to catch user intent, instigate user interest and fetch you increased leads. Simply put, we rack our brains to create optimized, informative and engaging websites with informational content to attract traffic, and then use our bag full of strategies/tactics to convert this traffic into your 'hot' leads.