The ubiquitous presence of smartphones and apps that run on them is feasibly the most prominent technical occurrence in recent years. Smartphones let things happen at a single click via a surplus of mobile apps to choose from, i.e., social networking, tracking music, playing games, booking cabs, exploring outlets, online shopping, keeping health track, and many more.
With the growing demand for new and advanced apps, companies offering mobile apps are sprouting like weeds. You have developed a fantastic app that can transform the lives of its users! You have also published the app on android/ios stores, but what's next? Have you got sufficient installations or downloads yet?
Lead Generation for App Installation
Well, established players in the android and ios markets are surely giving you a hard time to fetch those initial installations!
The team at Emarketz - Digital Marketing Service company can help you achieve your end target by getting you the initial installs for your app (IOS or Android) by targeting the right market in no time.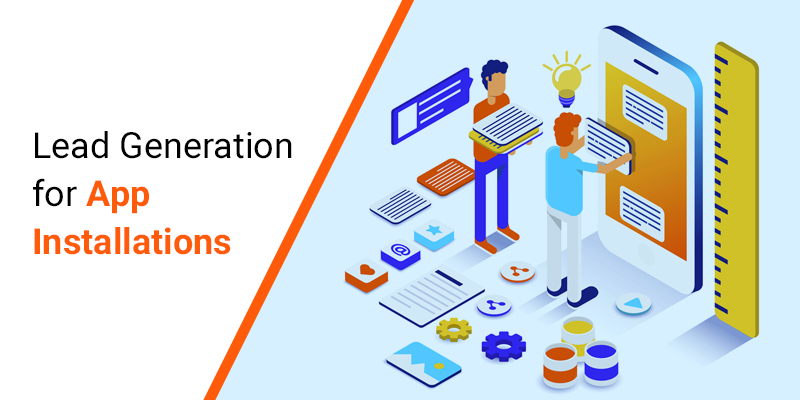 Boost your Mobile App Download by 2x
Today, the estimated number of mobile app developers is 2.3 million, which means 1 out of 8 developers are dealing with some category of mobile apps (IOS or Android). The most promising sections being utility, social networks, advertising, and productivity. But if you are a new entrant into the app market, you might have already felt the leads crunch by now, owing to the plethora of options people have for one particular utility.
As per the reports, 67% of people use smartphones to access the internet every day, about ½ of total smartphone users have mobile apps installed, and ? are regular mobile app users. Also, many businesses out there integrate mobile apps into their Digital Marketing strategy to engage an entirely new type of customer strata. All this reflects a huge market that can be tapped for increased sales (or installations). But are you still anywhere near your installations target?
Many companies out there are significantly investing in mobile apps and are enhancing their revenue through in-app ads, in-app purchases, and big data accumulation. Although the companies are gaining profit through mobile apps, one cannot deny the fact that companies, especially the start-ups/ small sized are facing plenty of challenges including-
Developing apps which get noticed in the crowded market
Promoting & marketing the app across platforms
Obtaining a good volume of installations
Lower rankings in App Store SEO
Identifying the target markets (age groups, user groups, etc.) for apps
High costs to acquire customers (CAC)
The mobile app industry is faced with exponential growth in a number of mobile apps which is much higher than the growth in user groups and download/installation rates. We, at Emarketz, use multiple approaches which would not just acquire those hard-to-get installations for your mobile application, but also build your brand worth in-app markets!
We will devise clever promotional strategies to market/promote your app - Our team will promote your app through various social media platforms as well as via app directory sites, Reddit, Digg, etc.
Collect organic reviews from your clients and use them to acquire attention from new users - Buying fake reviews is never an option. We will collect organic feedback from your users and include them in your website (create a suitable ad for your app and post on our website along with the testimonial).
Include a link to your app in our Email signature - Email traffic can mean a lot for your app. We will include Logo and link to your app in our Email signature and let our clients know about your app.
We help you market your mobile apps (and maybe customize) across user groups; different screen sizes, modes, and even operating systems.
Generate QR code for your app - QR code is nothing but a square-shaped bar code that can be scanned by smartphone and redirects to a specific webpage (where the user will find details about your app) and We will place QR code on the back of our business cards, on our marketing posters, and postcards.
Actively Participate in discussion forums, online webinars, online groups, and relevant platforms to spread awareness and generate leads through word of mouth
Increase attention to app name, app description, app icon, app store keywords, etc.
Through our App Lead Generation services, we localize your app listing as per the geographical region (or, official languages)
With a multi-resolution approach and combined experience of 35 years, Emarketz can help you swell your mobile app installations irrespective of your genre and target audience.